Apropos of nothing: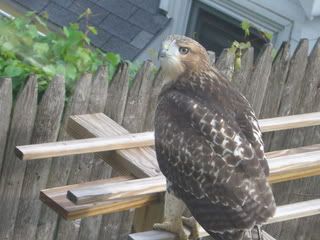 This definitely falls under the "Miscellaneous" category. This is our annual visitor. This year he/she brought a friend and the two of them have been hanging out on our grape arbor and entertaining this guy (through the window):
I'm sorry I've been an absent blogger. I've been busy organizing conferences, serving on boards, contemplating summer hail, and very occasionally, doing research! I'd like to switch these priorities around (especially the summer hail part), but I fear the first two are only going to take up more time in the coming year. But we shall see.
But, in the meantime, while I plan to remedy my absence from the blogosphere, I offer some musicologically miscellaneous humor. You have to love the connections only Amazon can make between these two works:
"We've noticed that customers who have purchased or rated
A History of Music in Western Culture
by
Mark Evan Bonds
...have also purchased
Mel Bay presents All-American Concertina Album
by Alan Lochhead
. For this reason, you might like to know that Mel Bay presents All-American Concertina Album is now available. You can order yours for just $9.95 by following the link below."
I suddenly find myself wanting to transcribe the Bonds anthology for concertina. A good summer project, to be sure.
NOW PLAYING:
Veljo Tormis
, North Russian Bylina (Estonian National Male Choir, Olev Oja)